Triathlon is for everyone!
Triathlon is for everyone! If you like swimming, cycling and running, this is the sport for you. Uppsala triathlon has an active youth section with committed leaders and young athletes with ages ranging from 6-16.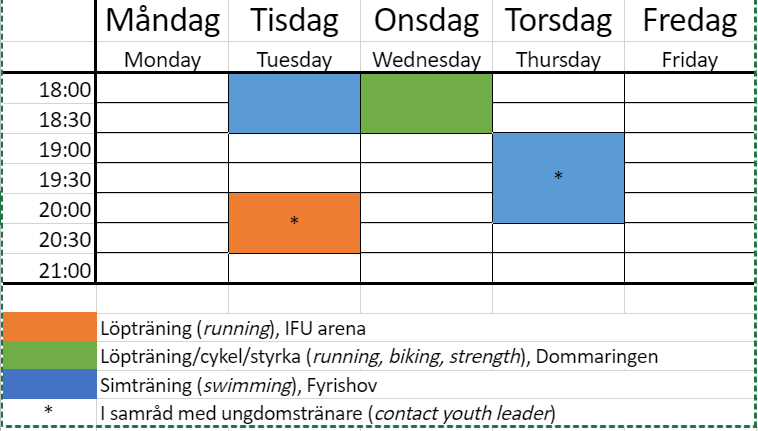 YOUTH SPECIFIC TRAININGS / Week
Tuesday 18:00-19:00 at Fyrishov
These workouts cost SEK 300 extra / semester to cover the cost of rent. The training session is not a substitute for swimming school and we have a basic requirement that the participant must be able to swim 200m (in any way) without help in deep water.
Wednesday 18:00-19:00 at Domarringen school.
This training is open to participants over 6 years of age. We usually divide the group into smaller constellations based on the age and ability of the participants.
It does not have to be expensive
There is a misconception that you need a wide range of expensive equipment to be able to participate in triathlon. That's not the case at all! Most of our swimming training is held indoors so all you need is swimwear that is snug. We focus mainly on crawl and our swimming sessions differ from a regular swimming club in that we include aspects of swimming that are specific to triathlon, such as swimming in a group and turning round marker buoys. We have a number of wetsuits in junior sizes that are available for outdoor swimming training sessions and competitions so it does not have to be bought at once.
When it comes to cycling training, it is best to start with your regular bike or MTB. If (when!) You decide that triathlon is for you then you may want to move on to a racer. There are great deals available through Team Sportia (club sponsors) as well as lots of different options available on the second hand market.
In addition to the training sessions listed above, it is also possible for our older young people to participate in an extra swim session on Thursday and a running session on Tuesdays. These training sessions are held together with the adult part of the club. The sessions are not led by a youth coach but we are usually in place ourselves anyway! Access to these training opportunities takes place in consultation with youth coaches. 
If you want to find out more about the youth section, do not hesitate to contact our youth section through the form below!